Voluntary Register with OFSTED training package
EVERYTHING YOU NEED TO VOLUNTARY REGISTER WITH OFSTED
Duration: 1 Day – 6 hours in the Classroom & 6 hours Online
There are many reasons to register with Ofsted if you are a nanny or working as a childminder. Not only does it increase your professional status, it also allows parents to use childcare vouchers and other financial assistance to pay for your services. These are only available to childcare professionals who are registered with Ofsted.
Childcare vouchers allow parents to save National Insurance & Tax on the first £55 per week they earn. This means paying with Childcare vouchers is a cheaper option for them to pay for childcare and a reason why they would consider employing an Ofsted registered childcare professional over someone who isn't.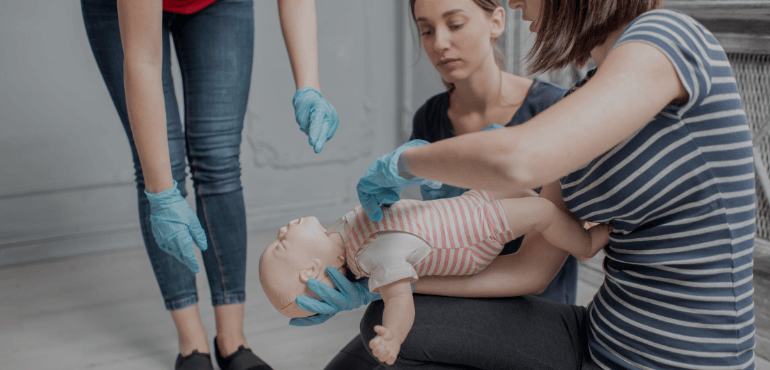 As you can see, voluntary registering with Ofsted gives you a competitive advantage over someone who isn't and will increase your overall employability.
To become registered with Ofsted there is certain criteria and training you must complete. We have developed a course that packages up everything you need to become registered with Ofsted.
View our infographic '5 steps how to Voluntary Register with Ofsted' to understand how it works,
Included in the package to enter the Voluntary Register with OFSTED
This certificate focuses on First Aid for infants and children which is essential for anyone wishing to work with children. The certificate is valid for 3 years after which you will be required to attend a refresher course to continue your registration with Ofsted.
The Paediatric First Aid Certificate covers everything you need and can be completed by attending our 1-day training course. This course is usually delivered on the same day as our Common Core course (other requirement for Ofsted) meaning you can complete both qualifications on the same day.
OVERVIEW
Role and responsibilities of paediatric first aider
Incident and casualty assessment
CPR
Unconscious casualty
Recovery position
Management of a seizure
Choking
Anaphylaxis
Shock
External bleeding
For more information on this course, please visit our Paediatric First Aid Course page.
Also required separately – public liability insurance
This provides essential cover for childcare professional in the event of something happening to the child whilst under their care that they could be help responsible for.
We are unable to provide this cover for you but companies such as Morton Michel offer specific cover for Childcare professionals. Please note this will be an additional charge based on your requirements with the provider.
HOW TO REGISTER ON THE OFSTED VOLUNTARY REGISTER?
After you have completed our package and bought the necessary Public Liability insurance, you can apply to the Ofsted Voluntary register via the government website or you can contact Ofsted to have an application posted to you.
The cost of registration is currently £103 and some parents may be willing to pay this on your behalf due to the financial savings they will receive by working with an Ofsted registered childcare professional.  Ofsted aim to complete your application within 12 weeks.
Below are the individual prices for each course or service.
Common Core (Online) £75  VIEW COURSE
First Aid (6 hrs) £85  VIEW COURSE
or
First Aid (12 hrs) £105  VIEW COURSE
DBS £75
By buying these combined you will save on the above prices.
Normal price with First Aid 6 hours £235
Package price – £215
Normal price with First Aid 12 hours £255
Package price – £230
To book the package please go to the First aid course page, choose your date, and then use the ticket selection to choose the relevant package.