Below, is a Q&A with our maternity nurse trainer, Julie
Q: What do you currently do?
I'm the lead trainer for the Maternity Nurse programme here at the London School of Childcare Studies. As such I deliver the classroom teaching and the remote Q&A sessions.
I am also an active maternity nurse and sleep practitioner.  Much of my work is now carried out virtually although I do odd days and nights where needed. I support families who need extra sleep and are trying to resolve challenges with their children's sleep. I also do 'troubleshooting maternity nurse' work and this is carried out over zoom or by phone. Again, occasionally I may do a home visit or overnight for a couple of days and nights to help with newborns.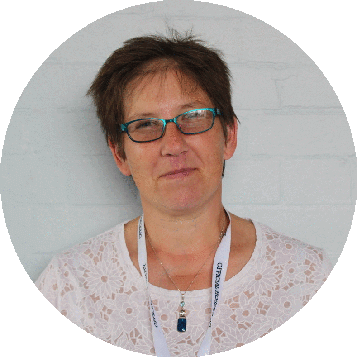 Q: How long have you been involved in maternity nursing and how did you get into this field?
I've been a maternity nurse for over 32 years, but my journey started before that. I was always babysitting or looking after babies and children from the age of about 14. I always had an interest in how children and babies learn and in particular meeting development milestones.
I attended college for 2 years full time studying for the NNEB, the main childcare qualification at the time. I also gained experience in placements from hospital work, working in crèches and private families. I started working with children with special needs but after a year decided I wanted to be a nanny working with babies. My first nanny job was for 4-month-old twins, which was scary to begin with, but soon I loved it. I then spent many years working as a nanny with babies. Then I was recommended by a prior family to take on a newborn position, working 6 days a week 24 hours a day. I worked both in the UK and abroad and really enjoyed myself for many years.
I then moved into safeguarding which was a real insight for me and I spent time working directly with families whose children were on the 'at risk' register. After 6 years I then returned to private clients, troubleshooting with families who were struggling with their little ones working as a maternity nurse and sleep practitioner.
Q: What does a typical posting look like?
This varies depending on whether you are a sole charge maternity nurse or if you are working alongside the mother and therefore caring for her as well as her new baby (and not forgetting the partner). As a sole charge maternity nurse you may not see much of the parents and might be working with several staff members. This does vary though. If you are working with the mother directly, then you will be supporting, guiding, reassuring, demonstrating what to do, and listening to her concerns as well as meeting the baby's wellbeing and development. So there is really no typical posting – all families are individual and unique in their needs.
Q: What do you find to be the most rewarding aspect of being a maternity nurse?
I love seeing parents become more confident and knowledgeable in meeting their baby's needs and understanding their roles. I obviously love the cuddles and seeing the baby, but I also enjoy empowering parents so they start to feel that they need me less and less.
By the time I leave a family I want them to feel I have helped them as a family and to be in a positive place to go it alone.
Q: What are some of the challenges you face?
Many maternity nurse jobs involve long hours and it is important to discuss when you will have a break and what facilities you have access to. It sounds simple, but some parents don't always think this through. You have to take good care of yourself as a maternity nurse – otherwise it is even more difficult to care for the baby and mother.
Supporting mum's and dad's wellbeing and managing illnesses such as postnatal depression or other mental health issues can be challenging but not necessarily in a negative way – it just means you have extra considerations when working in these situations.
Q: Have you come across much change in the industry over the time you have been a practising maternity nurse?
The biggest shift for me is SIDS guidance. When I started working as a nanny and maternity nurse we would always put babies to sleep in their own rooms, lay them on their front with cot bumpers and lots of teddies in the cot. This is clearly now the opposite of what we do.
Swaddling used to be done as tightly as possible which we now know can cause hip dysplasia
Weaning used to start at 3-4months whereas now it is 6months and we also recognise that milk is still the main source of nutrition at this age.
Q: Anything new and exciting that is emerging?
Not necessarily new, but I am fascinated about how we now can see more about babies' brain development and how important it is for positive development. I think parents have shown us as well how and why we should be communicating with babies in certain ways.
Q: What advice would you give to anyone thinking about starting on the path to maternity nursing
Some of the knowledge and skill you need to be a competent and effective maternity nurse can be picked up through experience and self-study. However, there are certain aspects, especially around safeguarding and the health and welfare of newborns, that are crucial, and my advice for anyone wanting to become a maternity nurse is to get onto a dedicated course, like the one we offer here at the London School of Childcare Studies. Alongside this, get some experience with newborns and young babies. This might be as a nanny to start with or working alongside a mother who is already confident in having a baby. It might be as a junior nanny within a team of childcare professionals and other house staff which means you are not on your own initially.
Take it a step at a time. Get that experience with babies and do the training. Look for opportunities to work with families who already that their babies so they can also guide you and increase your knowledge. Be careful about rushing in to do overseas posts when you are just starting out, it can be lonely being in a new country and not knowing the area or anyone there that you know.
Q: Do you have any insider tips for new and upcoming maternity nurses?
Enjoy the role – it is fascinating. New maternity nurses can get caught up in the amount of money they can earn, but it is really important to be sensible and realistic. Get some work, get the references and make yourself known. If you are good with social media this can be a really good way of spreading the word about you.